Need to make a Coming Soon or Landing Page fast? Coming Soon & Maintenance Mode is your best tool
Many people wonder about what is Coming Soon & Maintenance Mode plugin for WordPress sites is and when to use it? The purpose of the plugin is to enable you to set up a Coming Soon or landing page, but what is the Coming Soon page, and when to go for it? The purpose of the coming soon page is to let your audience know that your website is about to get set in motion while hiding the processes of improvement and development behind it. So far countless plugins have been released but none seemed to complete the tasks properly.
However, our premium Coming Soon & Maintenance Mode will make you change your mind and you will not be the only one. Before diving into its features let's get introduced to the circumstances regarding its uses because the right plugin at the right moment will take care of numerous web maintenance aspects and keep the SEO of your website sharp.
Imagine you are an artist or a moviemaker that is about to release a great hit. Before the full release, there is always a teaser or trailer that is supposed to raise the hype about the product before it's even available. The same applies to websites. Whether you are building or repairing a website, Coming Soon & Maintenance Mode will take care of the front-end and make sure your visitors see what you want them to see and sort of prepare them for what they are going to see soon. Use this plugin to build hype behind it and generate new leads.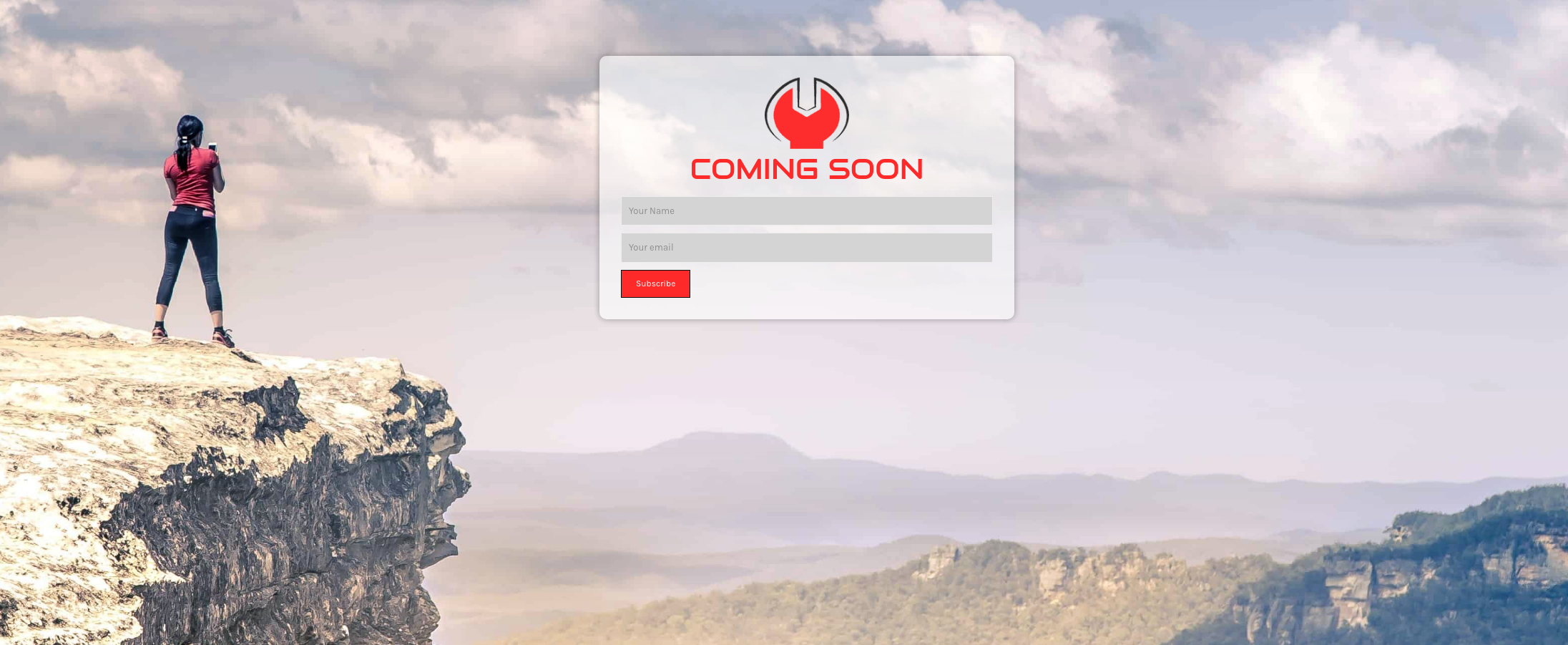 One thing is also certain – you don't want your audience to land on a broken or malfunctioning page in the middle of the development process that is going on in the back-end. What you want is a nice and smooth landing page that this plugin lets you build in minutes. Get ready for the features of the Coming Soon & Maintenance Mode plugin that will let you create a fascinating coming soon page, attract visitors and generate new leads. It is a well-tested product compatible with all editors and other plugins you might have or use on your site.
Image or video background can give you an edge over your competition, and so far users have been dealing with royalty-free multimedia from various servers such as Unsplash. Not anymore! This plugin will offer you over 2 million free-to-use images, and we all know that a good image is worth thousands of words. HD image some of your visitors – this plugin has got you covered. A feature called Secret Link will let chosen visitors or clients enter the site and they will be the only ones able to see it. That way you can get feedback from a real user that will tell you an honest opinion.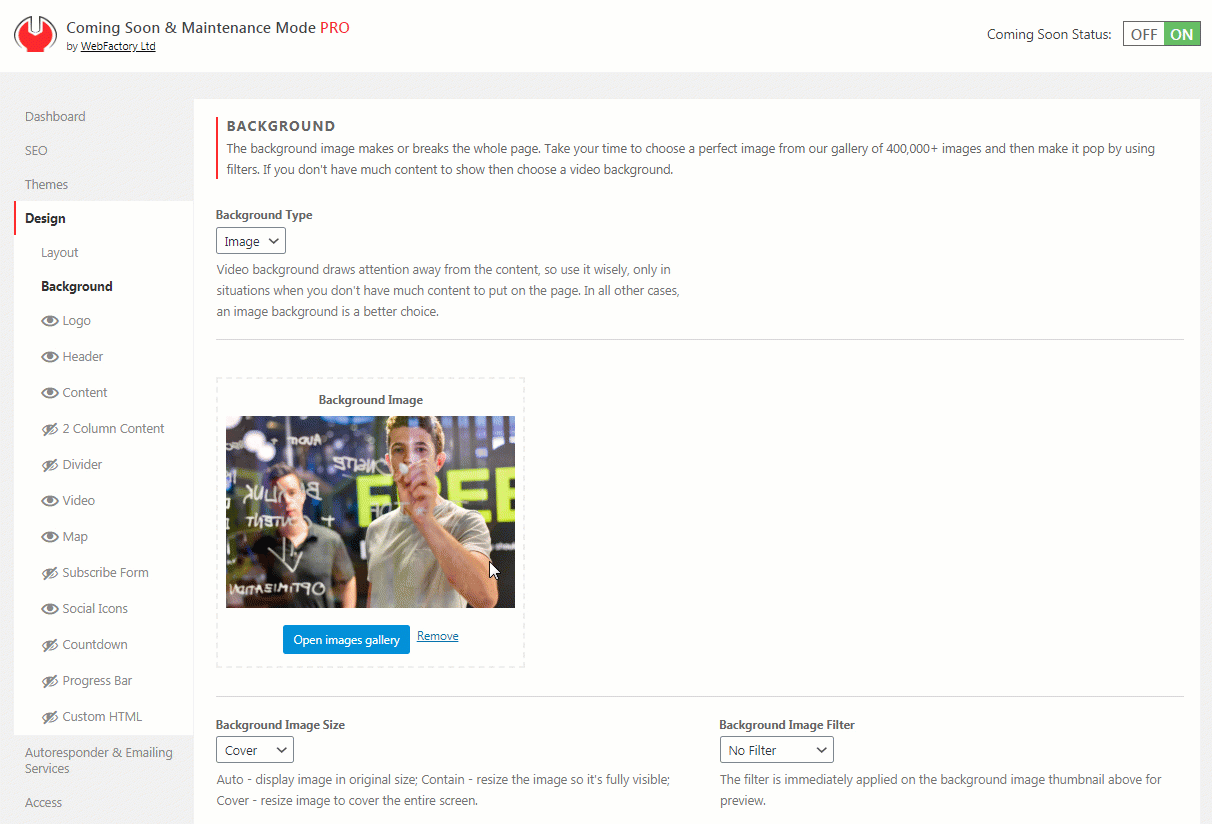 This feature greatly suits web designers and agencies because it allows a client to have a peep at the web while you're working on its functions and aesthetics. Also, did you know the plugin is fully brandable? Yes, you can make this tool your own, and you don't have to know anything about codes and programming.
Once you change the name, color set, and logo you can get some more respect and admiration from your audience or clients. Original content creators appreciate the integration of various marketing tools and push notifications. That is why this plugin is their favorite. Coming Soon & Maintenance Mode comes with full auto-responder support and CRM, as well as the software that marketers use to help the content meet the viewers quicker. If that doesn't meet your needs, other integrating tools such as Zapier will.
This powerful, simple and extremely easy-to-use plugin relies on one-time payments mostly, because users are not fans of reoccurring payments. Plans are divided into three categories, depending on the user profile and its needs out of which the two are one-time payments: Pro Lifetime and Agency Lifetime, while Pro requires yearly payments.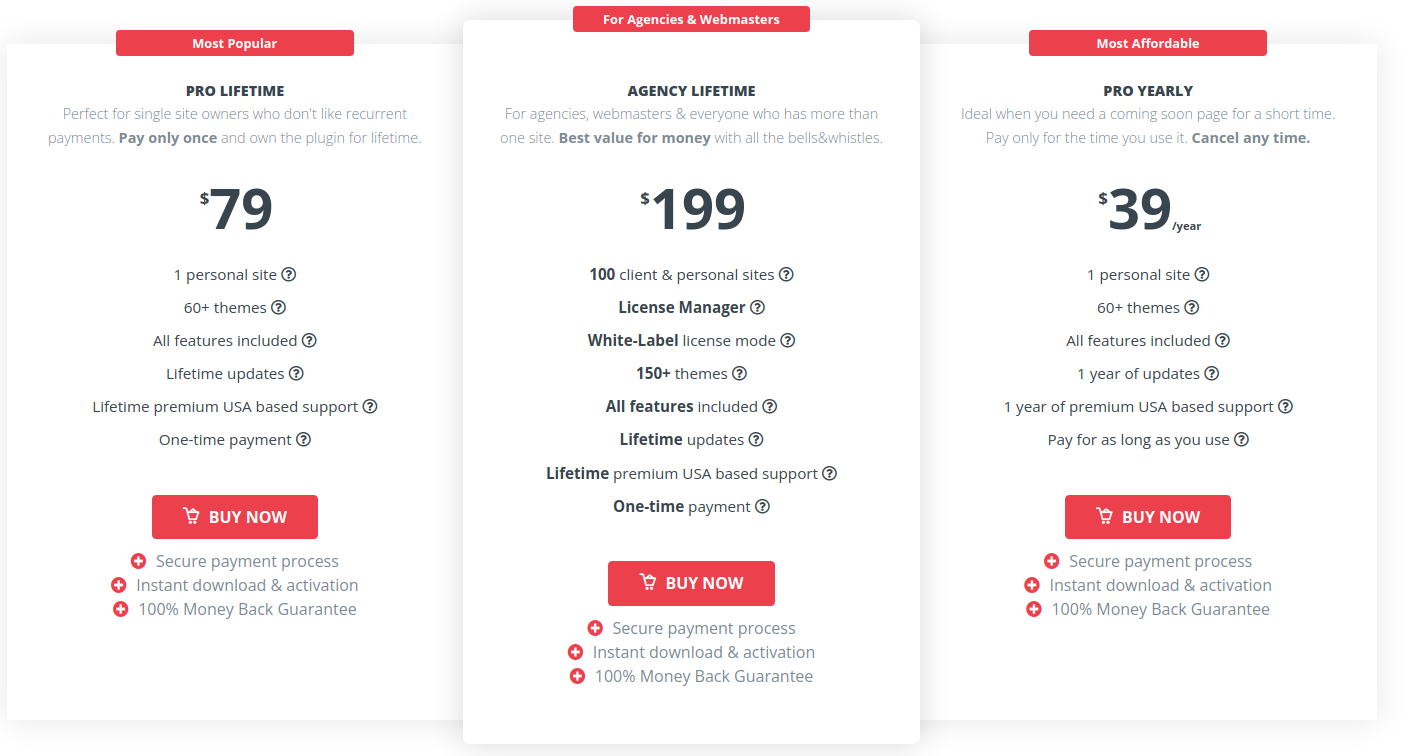 The Pro version paid yearly lets you pay only when you use the plugin and cancel at any time. Affordable prices range from $79 to $199 for the first two to attract customers daily, while Pro yearly costs $39 per year of use. The Pro version plan for a single site includes over 60 attractive themes, all the features, and lifetime support and it works for a single site.
An agency lifetime plan is made for those who have up to 100 personal or client sites, and it comes with a white-label license mode and license manager. Equipped with over 150 appealing themes this plugin certainly works in favor of your niche. Most of the themes are based on real user feedback.
This plugin appears as a tried and tested product with proven results. The page builder will serve you the necessary features, which furthermore contributes to the simplicity of use and the access to lifetime updates and USA-based support this plugin is a favorite choice for web-design agencies because it ensures the best value of services for the money invested.
Quick setup and ease of use are the most crucial aspects of WordPress plugins made for designing landing and/or coming soon pages. Coming Soon & Maintenance Mode turned out to be the best choice for those who are about to start a brand new website, hide the back-end part, and simultaneously attain new leads from the earliest stage.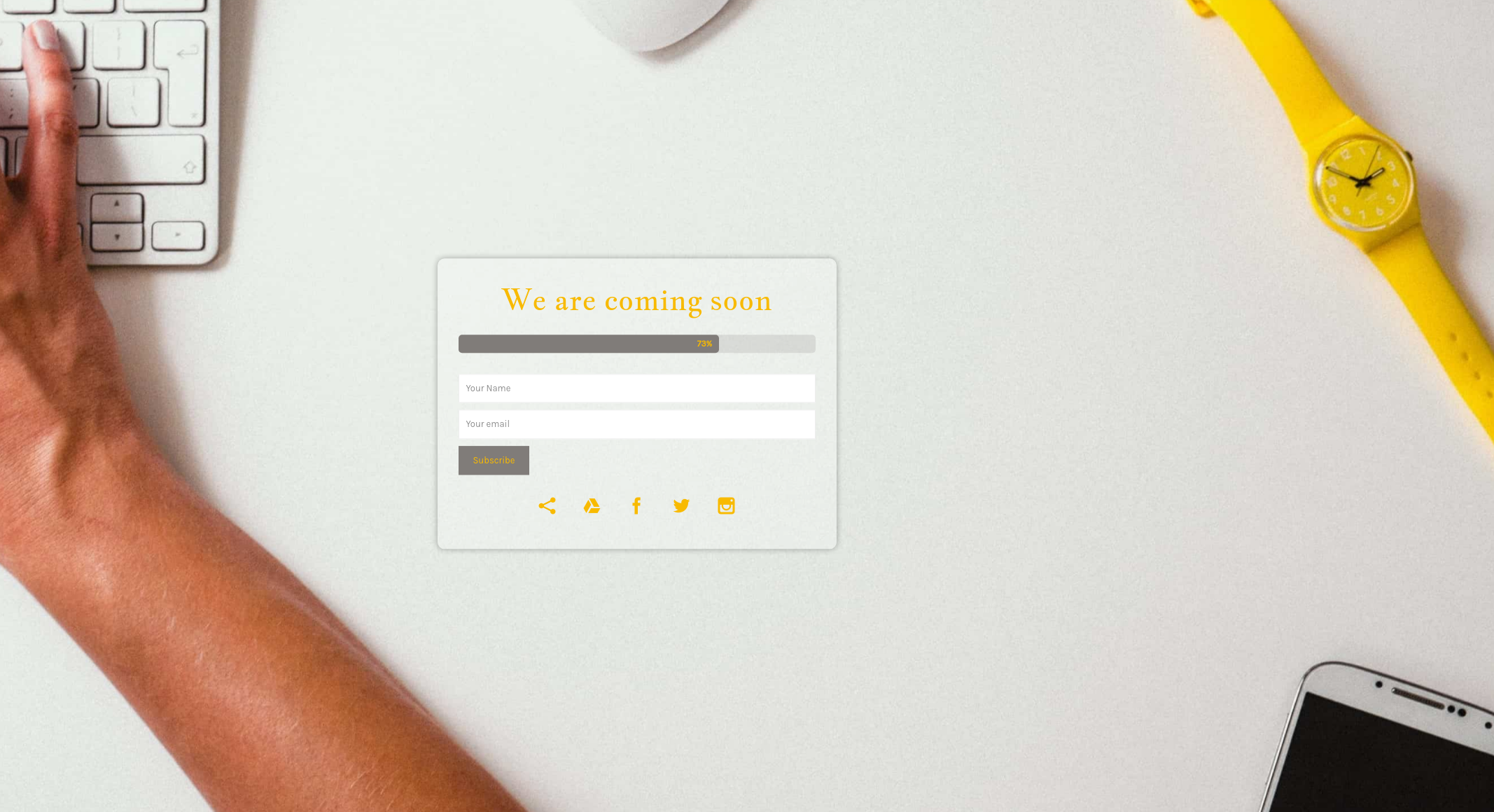 With this one, it is no hassle to set up a MailChimp API to easily collect emails from your viewers completely legally per General Data Protection Regulation requirements which forbid agencies from hiding behind confusing and hardly understandable terms and conditions. Alignment with GDPR builds trust among your users and gives an additional impression about the manner you handle your web business because no client wants insecure, unsafe, or unreliable platforms.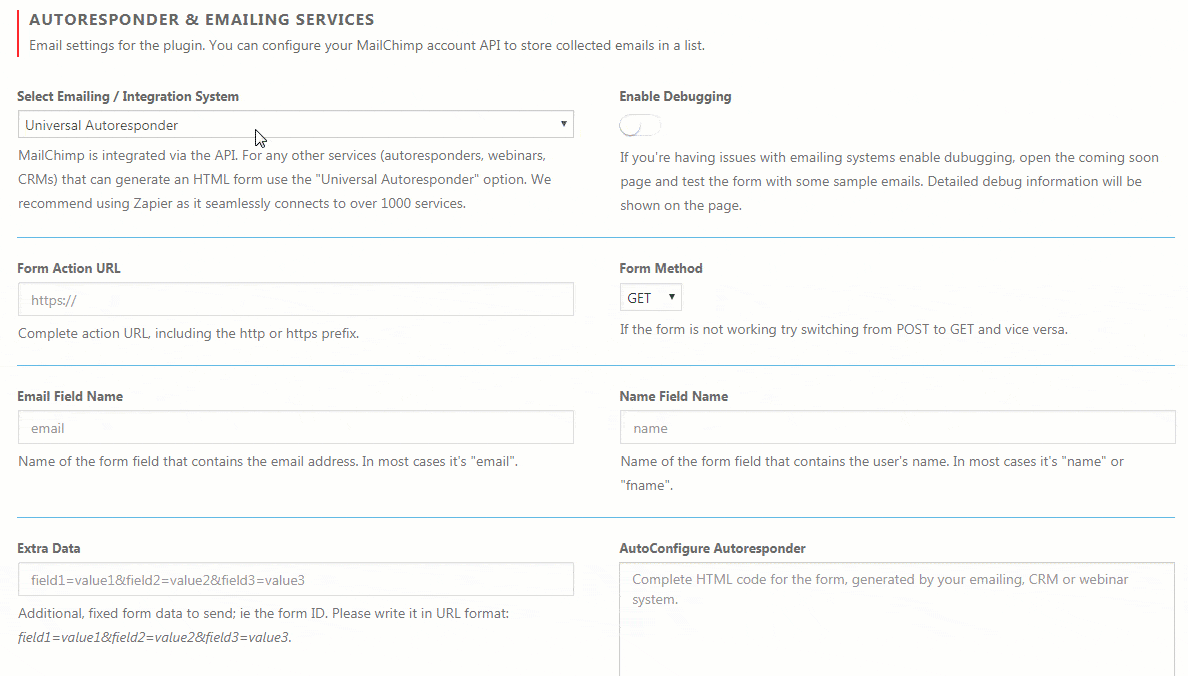 Affordable, professional, and ultra-efficient are the most commonly used words when this plugin is the topic of the discussion. There is a legit reason why there are over 100.000 businesses that use this tool. Most of them will say that it is the best among everything they tried for making an attractive Coming Soon webpage.
At the same time, you will appreciate the fact that this plugin will save you enormous amounts of time and money because you will need no expert help. The impressively good interface allows you everything you need to do straight from the dashboard, keeping your licenses in one place – safe and secure. Friendly instructions, easily understandable guidelines, good organization, and efficiency bring new users daily.