WP 301 Redirects overview
Creating a WordPress site is a making masterpiece, but the process can sometimes be frustrating. Most issues happen when you least expect them. For a visitor on the other hand one of the most frustrating things that can happen is getting a notorious 404 error message.
It was a great demand for a tool that would take care of such issues simply and efficiently. Voila! Today we are presenting you our premium WordPress plugin WP 301 Redirects. This one will make sure your visitors are redirected to a relevant page and don't get an issue with a non-existent one. This beauty will redirect visitors even if your page doesn't exist. Let's dive deeper into it.
To start, let's bring out what the users appreciate the most about our plugin. WP 301 Redirects is a type of plugin that will easily resolve the most important SEO issues.
Compatible with any teme, the plugin works smoothly and securely.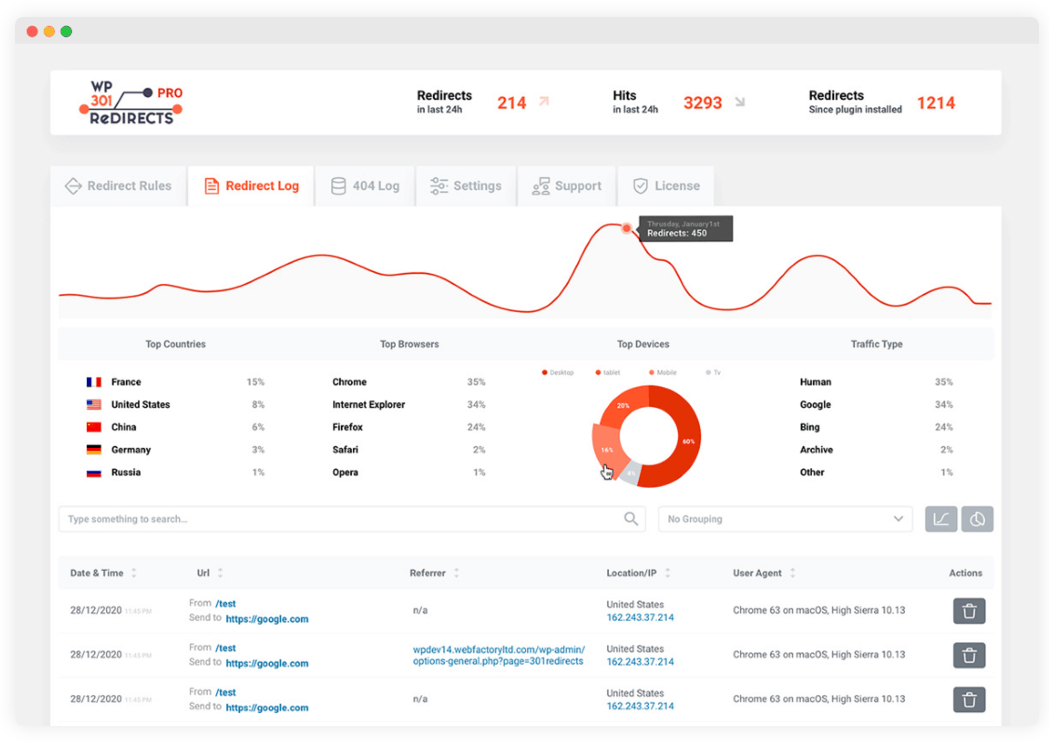 When you edit the post or the URL of the page, the plugin will notify search engines.
Users love talking about what this plugin does. Nonetheless, the setup takes less than a minute to boost meaningful traffic and gain full control of all redirects. To avoid viewing a 404 page this plugin will redirect visitors to a relevant and desired page. Have you changed the link structure? No problem, this plugin will do all the optimization. Changing the post's URL can be done safely now. The plugin will remember the initial link and automatically set a rule of redirect.
Blocking bad bots and ignoring the bad traffic gives it an advantage in which the biggest search engine names are whitelisted: Google and Bing for example.
On the dashboard, you will be offered great and in-depth statistics about all the actions.
All the logs and stats are kept in the dashboard, which makes it easily manageable and accessible.
A large community of plugin users and developers makes it easy for a novice to get some help from them. Excellent client support by the plugin creators and professionals is available. It's a harmless piece of software made to help you gain quality traffic and communicate with Google in case you edit a post's URL.

Often it happens that for some reason you have to edit the post URL if you want all the edits to show properly. However, people will continue visiting the old URL and it's crucially important to make a proper redirection to a new URL.
WP 301 Redirects will handle all sorts of redirection for you, keeping your SEO game tight and your visitors satisfied. Even complex issues get resolved efficiently with the help of creators. For example, a conflict with w3 Total Cache was fixed within a matter of days after reporting the issue.
Sometimes it is not going to be your fault. It happens that your visitors will type in the URL wrongly, which will by default take them to a 404 page, and you want to not let that happen. This plugin lets site owners who care about the user's experience to set up the desired page instead of the 404 page. That way you don't let your visitors go to your competition easily.
Link Scanner feature allows you to spot broken URLs and suspicious outlinks before your audience goes to another web for information.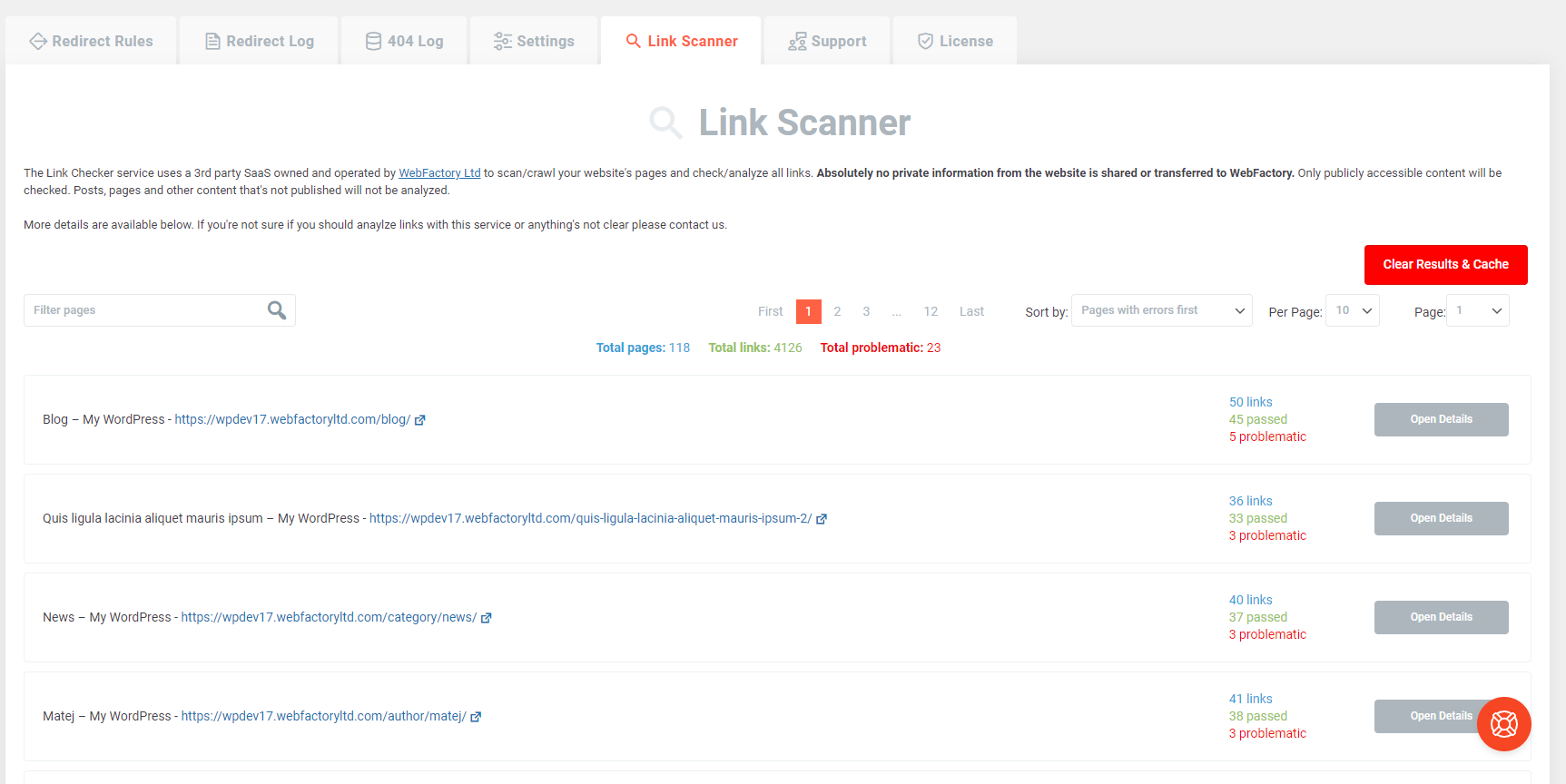 White-labeling is available too. if you go for it, all that relates to licenses and support will be deleted and you will no longer see the WebFactory Ltd logo anywhere. Keep in mind that not all licenses can offer white-labeling.
Like any worthy WordPress plugin, WP 301 Redirects comes with logs and reports that will let you get a deep insight into what is going on with your redirects. Since they take the space of your server, it's up to you will and when you delete it. If the license you operate under has that option in your dashboard that means that you can upload your logs by going to the plugin page and clicking "Upload Logs to your 301 Redirects dashboard". Don't forget to save the changes.
For advanced users, WP 301 Redirects come and offers some features that we, regular joes, rarely use. One of them is to disable all the active redirects on the page. Under the " Settings" tab there is an option called "Advanced" which contains the command "Disable all redirect rules".
This premium WordPress plugin WP 301 Redirects actively keeps an eye over all traffic that comes to 404 pages. Not only that, it will redirect your users to the page they were initially meant to view. It is very easy to use and it takes less than a minute to set up, keeping your SEO configuration and user satisfaction as top priorities.
It will not slow down your site in any way, nor it will load additional JS or CSS – ever! More than 100.000 users recognized the quality and simplicity of this plugin worldwide. Don't lose visitors and ruin the SEO, download and install the plugin from the website.
Say bye to the frustrating affiliate links and site redirects and welcome the new way of keeping your users happy while optimizing the SEO. Whoever made structural changes to improve the SEO will recognize the power that this plugin puts into your hands. Identify the pages you want to redirect and put in the destination URL, the plugin will do the rest.
At the same time, there is a wide variety of reasons people start using this plugin. If you fresh bought a website and want to restructure or to make sure no malicious outlinks are there, or maybe you are an affiliate marketeer and want to shorten the long and nasty URLs that you can get the stats for, or simply to put 404 pages under your control.