Life is too short to waste but too long to live! No person is complete without a soul mate. There are times when couples might get bored with those conventional talks and routine activities. These are some situations where the best games for couples can come to rescue.
Lack of other recreational activities or the unchanged monotonous ways of reaching each other might land your relationship into a great amount of trouble! It is very obvious that in the initial days, both the lovers start exploring each other and make attempts to impress each other but slowly and gradually these things don't seem to excite or energize them anymore. In contradiction to these, long-distance relationships have an altogether different issue.
These couples fail to meet each other regularly and hence the separation starts haunting them. So, what could the couples possibly do to lighten their moods and keep a healthy and joyous atmosphere among them? Well, how if they engage themselves by playing games? Seems interesting, isn't it? But now the question that strikes hard is which one to go in for! Millions and tonnes of games for couples available, but not all make sense. The games for couples should not only keep them indulged but it should be such that the couple has yet another reason for reaching out to one another.
Depending on the compatibility and situation, the games could be either online or offline like board games for couples. There are a huge number of options available in the online form of gaming whereas there are limited options available in offline gaming. The most important thing while choosing some games for couples is to take knowhow of the common interests and likings of the players. If romantic games for couples work out, then they start making constant contact.
If you are looking in for something of this sort but are confused which one to choose; don't worry, the article has come to your rescue!
Best games for couples
If you one of those couples who prefer a physical interaction over a virtual one and are genuinely interested in utilizing your time in meeting and having fun, then the offline board games for couples are something that you might be more interested in. Although limited, they give you an awesome exposure to interesting talks and inject in a spirit of sweetness in your relation.
UNO: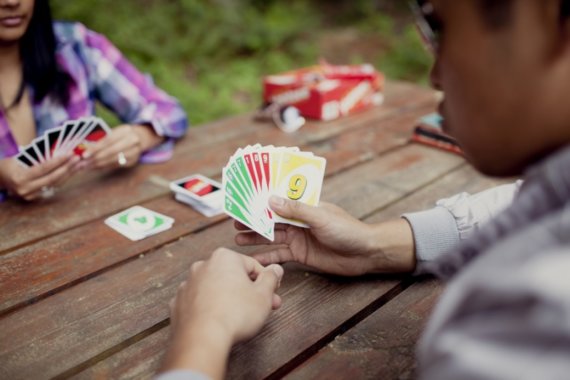 Though UNO might seem to be a common option, no one can deny the fact that UNO keeps you involved. The game does keep on a constant momentum of talks and a sporty atmosphere from the beginning till the end.
No doubt, UNO is one of the most preferred card games for couples globally.
Truth and Dare
Truth and Dare is one of the most surprising and kinkiest games that any couple can come across. The game checks both the amount of transparency in your bond and the guts you have to prove your love for your soul-mate.
The game is a true test for a couple, but if there are some things that you have hidden and you want to keep a secret, change your option right away!
Taskathon
The name Taskathon is not common in the market but the concept is very well known to many of the youngsters out there. The impact of the game by any other name would not become less interesting. Taskathon is indeed one of the most romantic games for couples that one could come across. This game again is kinky and needs a sense of maturity.
Taskathon is somewhat a strip game, where a series of questions are bombarded one after the other and each time the opponent answers them correctly, you should let any of your apparels go off, one by one! And what comes, in the end, is just pure love and romance. It seems addicting, isn't it?
Word-Maze
Word maze is one of the most popularly known offline games. If you are a couple whose interest lies in literature, then this is one of the board games for couples is bound to leave a hangover on your mind. Many times lovers like to try a hand on knowledge and logic testing games. Nothing surprising that games like these maintain a sense of curiosity among the players.
To add in a flavour of love, the couples can set a condition that after each word, they kiss each other. That makes it complete, doesn't it?
Situation Talks
If you are genuinely interested in testing your lover's loyalty towards you, then you are on the right track. Situation talks are what you are exactly looking for!
The game consists of giving your lover a brief of a hypothetical situation regarding your love life and asking them for the steps that they would take if such a situation arises. It is a great way of knowing the intensity of love and truth that your lover has for you!
Best Online Games for Couples
If you are a couple who fail to meet regularly but want to stay connected anyways, then online games are indeed your piece of cake! You could find no better option but online gaming. Tons of online gaming options but which one to go in for?
Ludo King

Ludo King is perhaps one of the most played online board games for couples. Though it might seem that the game is very common, the user interface provided by the Ludo King team makes it a very addicting and romantic games for couples. You can also include your couple of friends in this and have a couple-competition!
PUBG
Player Unknown's BattleGround is one of the most hot-selling online games on the Google Play Store. If you are a couple who is interested in hardcore action games, and also want to co-operate, then this is just what you need. Just switch to the dual-mode, and simultaneously some chit-chats while playing.
Heads Up
Heads up is a hilarious fun guessing game. The game promotes cooperation rather than enmity. The game is a sort of 'guess the clue' game. It will surely help you make a great interaction with your partner and hence strengthen your bond.
Happy Couple
Happy Couple comes to the rescue of fun-loving long-distance relationships. It does help the lovers know each other in a very interesting way. Moreover, according to popularity research, many couples have credited this app for saving their weakening relationship!
Glow Hockey
Though the game Glow Hockey has been known for a long time, and most of the couples recommend playing it for having some hearty laughs. Score more goals and you get an awesome opportunity of boasting it against your lover!
Well, it's time, to sum up, the content. I am damn sure that you have picked your game and are anxiously waiting to get started with it! So, let me not be the middle man and disturb the mood. Just remember, "go gaming and keep loving".
End of The Line –
Playing games together will surely help you deal with the emotional turmoil caused by Covid-19 pandemic. Whether it is board games for couples or online games for couples, Both can help you in this difficult situation.
We hope that you will like our list of best couple games and If you do please share it with your friends too.