How To Install An APK On Android
If you want to learn how to manually install an apk file on your android phone, this is the article for you.
An apk file is a type of file that stores Android apps. Whenever you install an app on your android phone, you are essentially downloading an apk file, and then installing it.
This is usually all done automatically within the Google Play store which is by far the safest and easiest way to install an app on Android.
But if you ever want to install an app on your phone that is not on the Google Play store, there is actually a way that you can manually download and install an apk file from anywhere you want, and that's what we're going to be doing today.
WARNING!
Before we get started, I must warn you that this can be a dangerous thing to do. When done correctly, it will be perfectly safe, but if you download an apk file from an untrusted source, you could be installing malware that will cause serious damage to your device. Hi-Tech Weirdo is not responsible for any damage you may cause to your device by following the steps in this article.
Configuring Your Phone's Settings
So now that we've gotten that out of the way, we can begin the process. I'm going to be doing this on a Google Pixel, so it might look slightly different depending on what brand of Android phone you have, but the general steps should be pretty much the same.
First of all, you need to allow your browser app to install apk files. I'm going to be using the Google Chrome app, but if you'd prefer to use a different browser like Firefox, the steps will be pretty much the same.
Open up the settings app on your phone, and then tap "Apps & notifications" or something similar. This part could be quite different depending on what phone you have, but most phones should have something to do with apps in the main settings menu.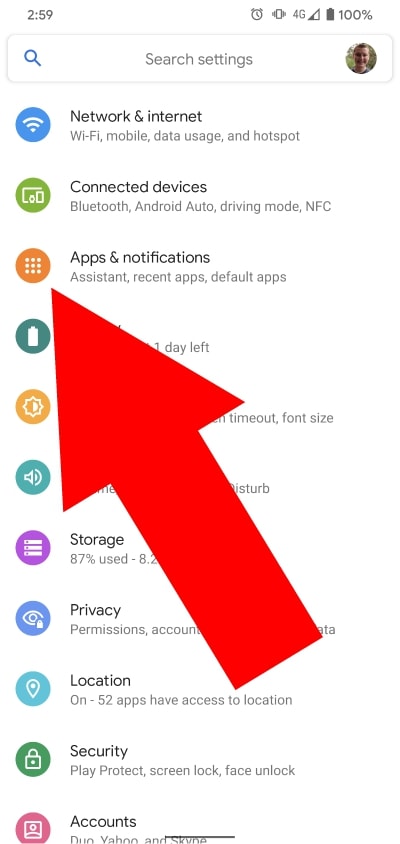 Now, if you're on a Google Pixel you will need to tap "See all 208 apps" (or however many apps you have). If your phone doesn't have this, you'll just need to find somewhere in the settings that gives you a list of all your apps.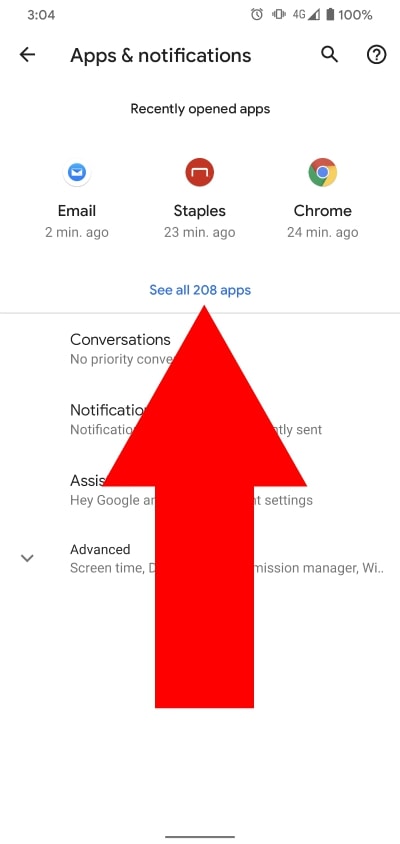 You should now be looking at a list in settings of all the apps that are installed on your phone. Once you're here, you'll need to scroll down and tap on the browser you're going to be using (I'll be using Chrome).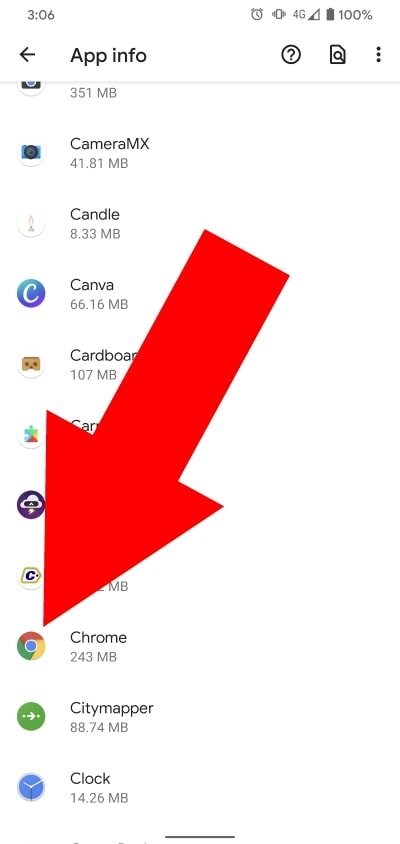 Once you've done that, you'll probably need to tap on advanced (depending on your phone).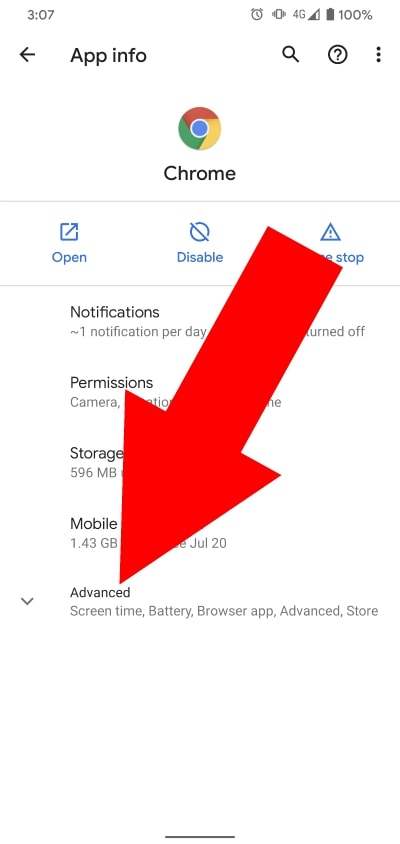 Then you'll need to scroll down until you see the option that says "Install unknown apps" (or something similar).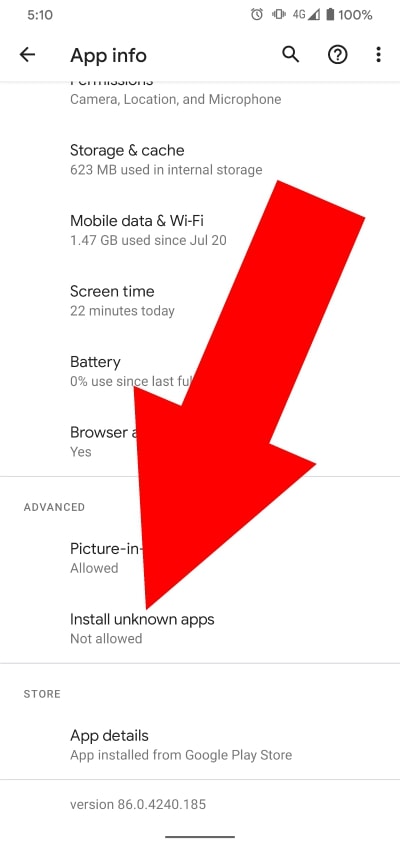 Tap on that option, and toggle it on to allow that app to install APKs.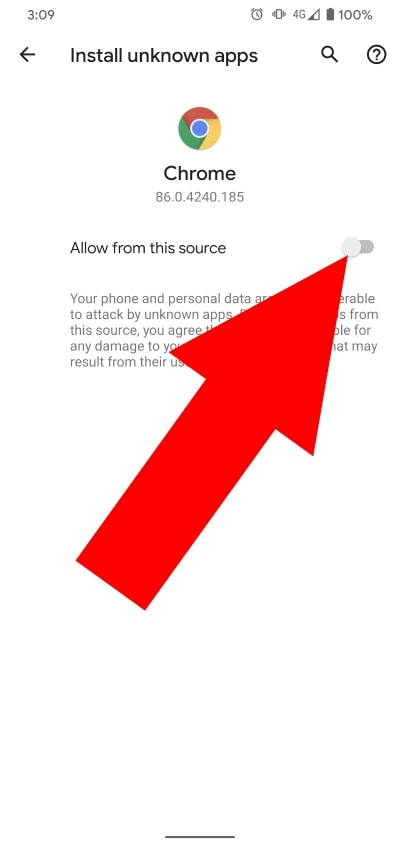 How To Download An APK
Now that you've enabled your browser of choice to install APKs, you'll need to download the app you want to install.
You can install an apk from any website you want, but as I mentioned earlier, downloading an apk from an untrusted source can be dangerous so I recommend only downloading apks from well know websites like apkmirror.com.
This isn't the only trustworthy source for downloading APKs, but it's the one I'm going to be using today.
So open up your browser of choice and go to apkmirror.com or any other well trusted apk download site.
you can then use the search function in the top right-hand corner of the screen if there's a specific app you want to search for. Or you can just browse around the homepage until you find one that looks good.
Once you've found the app you want to download (I'm going to install Tick Tick a to-do list planner), tap on the download icon next to it.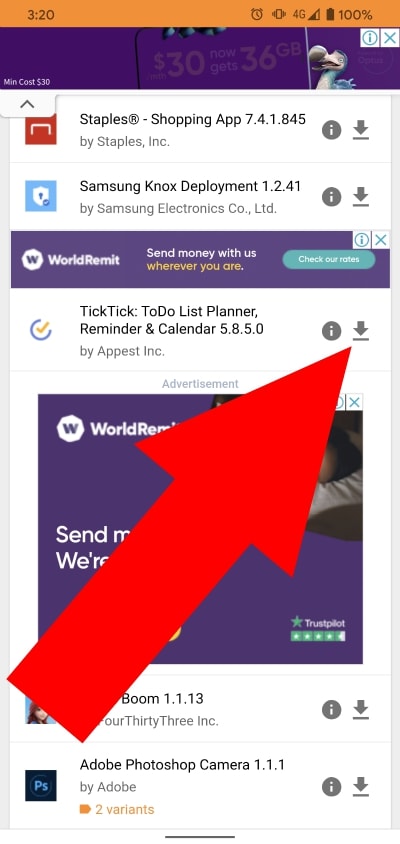 You'll then be on a page that gives you all the different details about the app, scroll down to the section titled "download" and tap on the most recent apk on the list.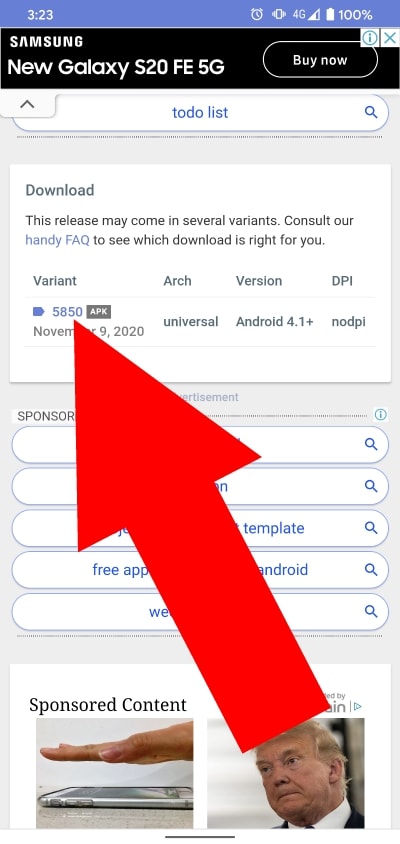 Then scroll down until you see a big button that says "DOWNLOAD APK" and tap it to begin the download.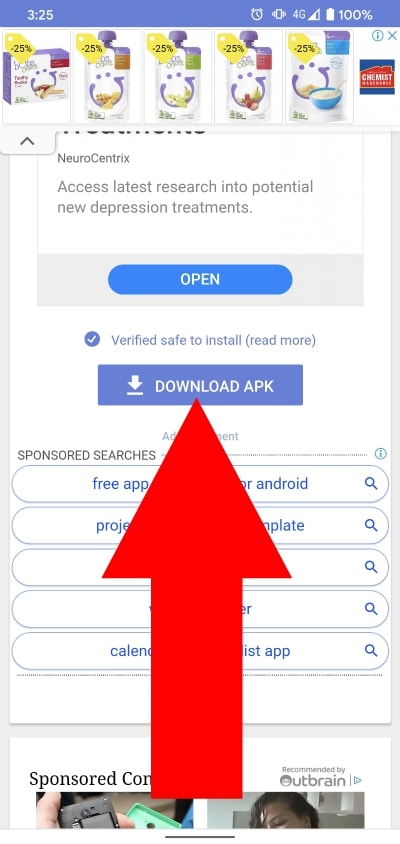 You will then likely see a warning saying that this type of file can harm your device, this is because an apk file can also be a virus or an insecure app. It doesn't mean that this specific file will harm your device, it just means that apk files have the potential to be harmful.
But as long as you are downloading it from a trusted source, go ahead and tap "Ok", "accept", or anything else it might say depending on your phone.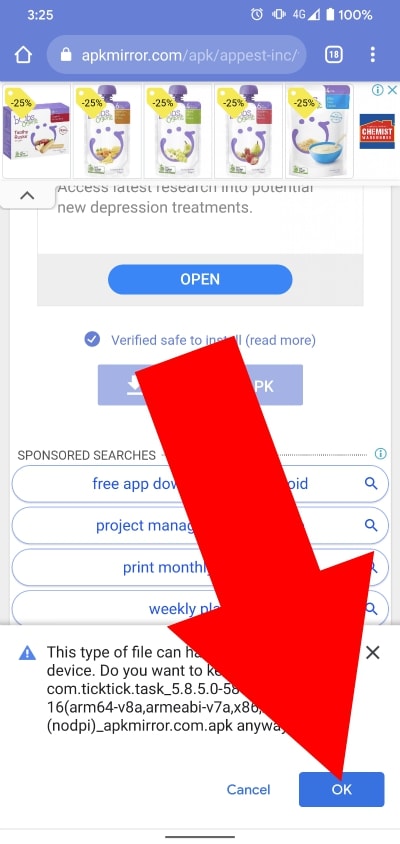 It will then download to your phone, and unless it's a giant game or something, it should only take a few seconds to finish downloading. Once it's downloaded, you'll receive a notification telling you so, and depending on your browser, you might also see a message across the bottom of the screen.
How To Install An APK
Once your apk is downloaded, tap on either the message across the bottom of the screen or the notification to begin the installation process.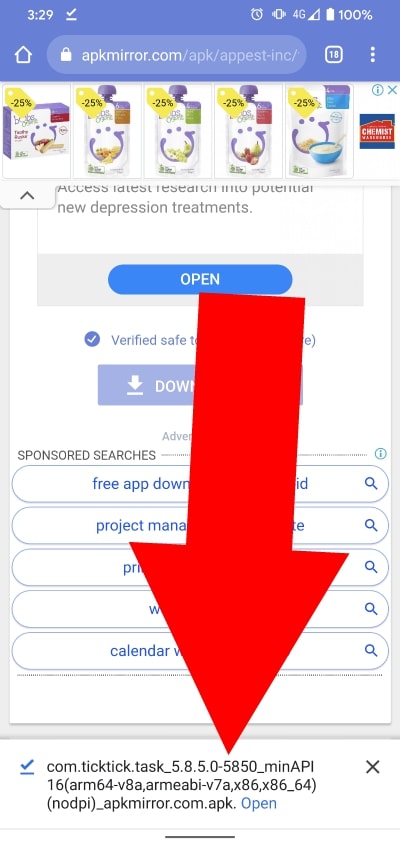 Then you will see a popup message saying "Do you want to install this application?". Tap on install to begin installing it.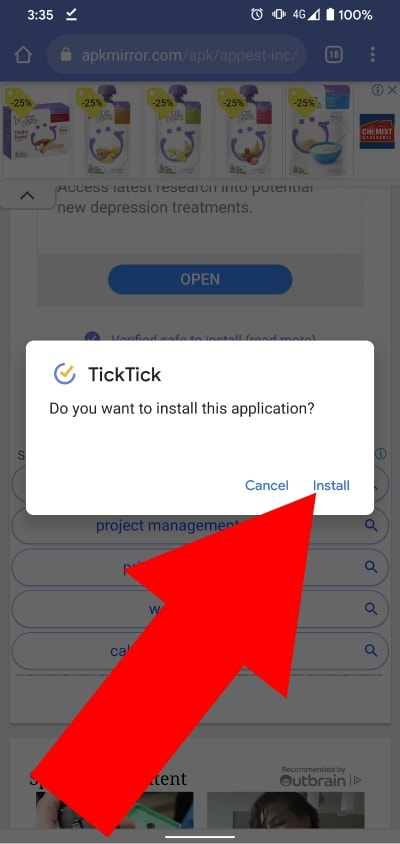 It will then say "Installing…" and show you a progress bar so that you can see the installation progress. This process should only take less than a minute, so just wait for it to finish.
Once it's done, it will say "App installed" and that's all you need to do! If you don't want to open the app right now, just tap "Done" and the popup will go away and the app will be ready and waiting for you to open it when you want. But if you want to open it right now, just tap "Open".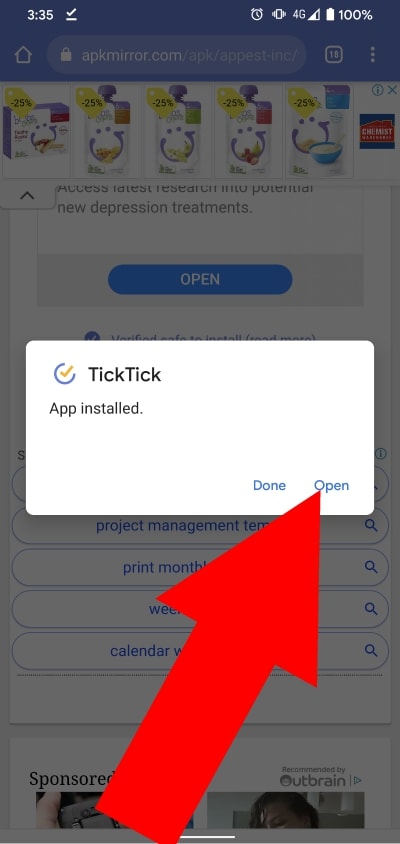 Assuming you downloaded a working apk that is compatible with your device, the app will begin to open and you will be able to use it.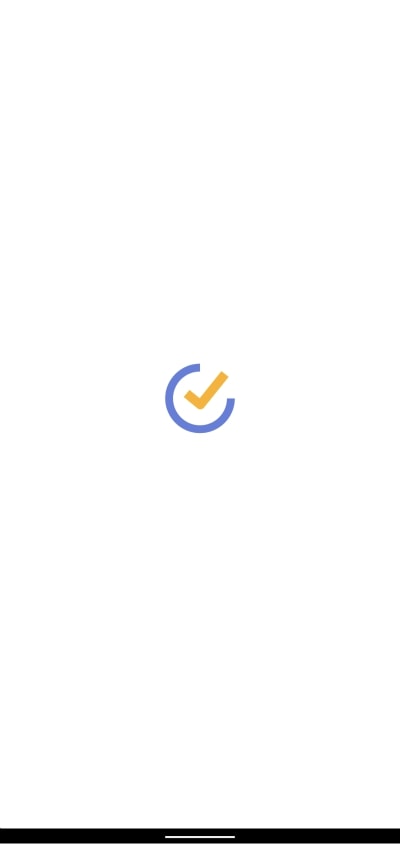 And that's all there is to it! Now you know how to download an apk and install it on your phone. And as long as you always download from a secure source and follow the steps correctly, it's really quite a simple process!