Easy Way To Create Ringtones For Your New iPhone
If you are one of those, Who have recently shifted to Apple's iOS and are completely bored of the default Apple jingle for the call or SMS alerts or You are one of those using iOS since a long time facing the same boredom issue.
Then you are the appropriate place to end this boredom of yours.
Using a Custom ringtone on an iPhone is a tiresome job, unlike Android devices. Creating a ringtone via iTunes is a very long and a bit complicated process. The method we are going to use is very easy and requires very less effort unlike the one used to make ringtones on iTunes.
We will be using an Online ringtone maker for iPhone in our method to create ringtone and we later can sync the created ringtone using iTunes or Waltr.

Procedure To Create Ringtones For An iPhone Using Online Ringtone Maker –
Open Ringtonemaker.com in any web browser.
Upload the song you want to use as our iPhone ringtone.
Wait till the file uploads and select the time frames you want to use as your iPhone ringtone.
Select the file format as M4R and Click on make ringtone.
The created ringtone will be downloaded into your storage.
Methods To Send Your Ringtone To Your Phone –
To Use a custom ringtone on your iPhone, You have to make sure first that your ringtone is in a file format supported by iOS, i.e. M4R.
Method 1 – Using iTunes –
Click Add file from iTunes options 
Select your ringtone.
Sync your mobile via data cable.
Method 2 – Using Waltr
Waltr is a paid application which allows you to transfer data to your mobile without using any cable. Simply connect your laptop and iPhone to same wireless network and drag and drop files onto Waltr to transfer the data to your phone. Waltr is a paid application but you can get its free trial version by clicking here.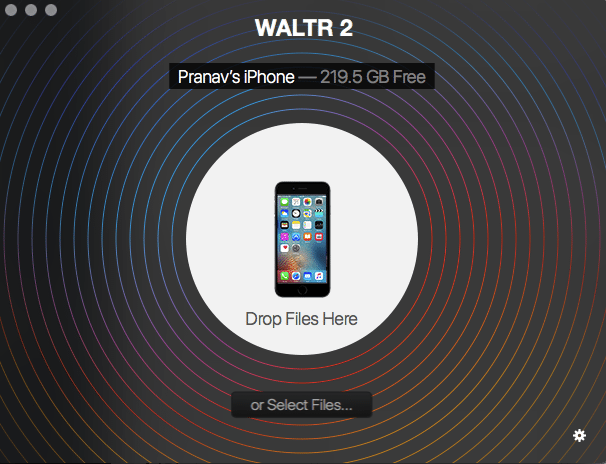 Now After you have successfully sent your ringtone your phone, Open Sound settings on your phone and Select your ringtone after clicking on Ringtone.
End Of The Line –
In this post, We published a lucid tutorial to create ringtone on an iphone using an Online ringtone maker for iPhone.
If you liked our tutorial, Please share it with your friends. If you did face any problem or have any queries regarding the tutorial, Reach us through the comment section below or via our Contact page.
Regards  
Also, Check – SEO Applications iOS