WooCommerce Table Rate Shipping overview
Although WooCommerce was a complete hit on the market, raising the stakes and conquering users' hearts and minds. However, there were certain limitations especially when it comes down to shipping. Making table-based shipping setups is no easy task and it can strike users as confusing and quite complicated since it doesn't come with WooCommerce by default. As a matter of fact, you will most likely have to install a plugin that is flexible enough to handle all of it for you. Don't worry, this article brings you an overview of a free plugin that will take the weight off your shoulders.
When we talk about WooCommerce Shipping plugins there are countless choices available today and clientele find it hard to pick the right one. Users have high expectations, especially if they are asked to pay for the use of various tools and software. Many of the available plugins that offer real-time preset shipping rates are based on limiting factors.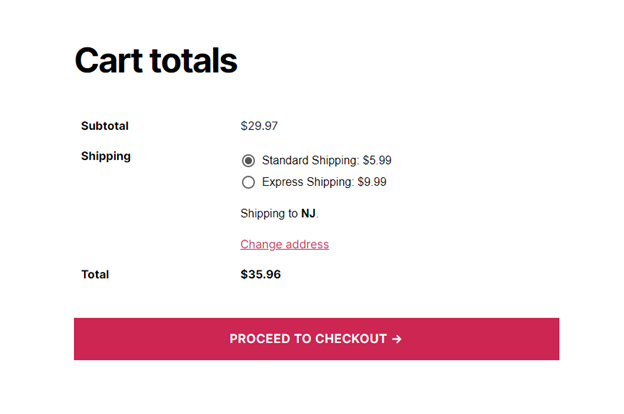 With the WooCommerce Table Rate Shipping plugin the goal is to enable the store owners and clients to customize shipping rates and rules following numerous factors. Lean back and get to know our WooCommerce Table Rate Shipping plugin, the best solution for the WooCommerce side of your site. The plugin is very powerful generally and arrives equipped with the features you need if you want to handle shipping easier than you read it's possible. The customizable nature of the plugin lets users set up more than just a couple of shipping zones by the use of wild cards where each contains plenty of custom shipping rates based upon certain parameters answering the needs.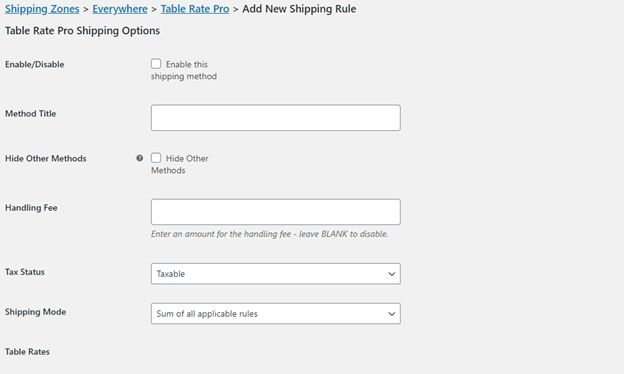 In those terms, the plugin is armed with advanced shipping rules that the customers can set such as an item count, weight, or other parameters. To build more concrete rules you can use shipping classes and create unique shipping method names. Also, you can hide shipping methods, but any methods you set – you will be able to easily export or import them with this plugin. The fact that you can edit them in a simple spreadsheet document gave it an edge over the competition and contributed to the happiness of users. Since the site's speed is an important factor too we have to reveal this.
Regardless of the range of power and functionalities that this plugin brings to the table, it is not going to slow down your site and will offer your buyers a unique experience. There are no bugs or malfunctioning issues but in case you end up encountering one the team support will quickly get in touch with you and will not leave you until all the tests and configuration are complete. The price of the premium version of the plugin varies from $69 for a single website license to $199 for 25 website licenses. If 5 site licenses are enough for you then that will cost you $99 only.
There are so many aspects and details to the store owner need to take into consideration to improve the way they handle your business and keep the cost low. Such aspects include the quantity, weight, destination country, WooCommerce shipping zone, shipping classes, and cart prices. Weight refers to the calculation of shipping cost based on the weight of one or more products in the cart, while quantity refers to one or more products that might lead to a significant drop in the shipping cost.
Destination country is tied to the country of destination and you will be able to compare the prices and go for the lower one when the price differs depending on which destination it is. WooCommerce Shipping zone is an amazing feature that shows you zones in which the countries are grouped so the regions can maintain similar shipping rates.
It is a perfect match for Shipping carriers. This plugin easily handles shipping rules for both domestic and international delivery demands. All you have to do is choose the World, the Rest of the Countries, Any country, or any state group to configure the rules of shipping. Shipping classes refer to categories of products whose shipping cost might vary compared to other categories or products inside of it. The cart price is yet another interesting one because it points out those times when you want to change the price of shipping once the certain price amount in the Cart is reached or delivered for free in certain cases.

You can now choose from the highest to lowest shipping options, which contributes to the control this plugin gives you. Some shipping methods could be hidden if you wish. For example, if there are some specific items found in the cart the plugin can hide certain shipping methods. Labels on the shipping methods can be customized too, which will add to your user satisfaction levels because they will view if certain and specific items are located on the card.
A significant percentage of business owners encounter hardship when configuring their shipping rates in correlation with the parameters discussed above. At times they manage to set their shipping cost around a couple of parameters. To be able to set the following bunch of parameters there was a great need for the development of this plugin. All of the parameters we talk about are the USPs of this plugin.
WooCommerce Table Rate Shipping will let you configure your rates concerning all the parameters with great ease. Shipping can be seriously stressful and cause countless complications if you don't use the right tools that have been developed to make the process easier for fellows who have no expert knowledge.
New features including security updates and client support additionally contribute to the boss status of this plugin and it further makes it the only shipping plugin you will need for WooCommerce. Very flexible, WooCommerce Table Rate Shipping allows store owners to develop shipping rules that will apply to logged-in users only. Full control over the established shipping costs, additional costs, and even discounts saves incredible amounts of time and money.