5 Best Email Newsletter Services in 2022
You've undoubtedly heard of at least one internet marketing firm by now. Online marketing is vital since people nowadays are obsessed with the internet. Everything revolves around it, and it is time to learn about the top mailing services available. It is the most effective method of connecting with people and eventually converting them into paying consumers.
You may be wondering, "How does online marketing truly work?" Online marketing is an excellent approach to sending your message directly to the individuals who are most important to your company. Email marketing, regardless of sector, gets your message directly into the inboxes of the individuals you want to view it.
Additionally, email marketing allows you to stay in touch with your client even though they've left your page. To help you pick the best service, we need to let you in on a little secret. The first is that you should opt for something simple to use and reasonably priced. Most essential, you should seek a service that matches your business since if a service isn't focused on your specific sector, you'll need to seek a solution that is.
Now that we've established that, we can proceed to tell you about the 5 Best Email Newsletter Services in 2022 that we believe is the best option for your needs.
HubSpot
HubSpot is interesting because whatever method customers use to join your mailing lists, HubSpot will store their information in the complete system, where you can break your contacts into as many groups as you need and effortlessly send those emails.
With HubSpot you can:
View detailed email interaction data such as opens, clicks, and more.
To send emails without leaving your WordPress dashboard, a free WordPress plugin is available.
Use strong customization tools to tailor your emails to each contact.
You may contact excellent customer service by phone, live chat, or email.
The drag-and-drop email builder makes it simple to create emails.
You can be certain that your newsletters will reach readers' inboxes since they have a 99 percent email deliverability rate.
HubSpot's free plan allows you to send up to 2,000 emails every month without using a credit card.
Following that, paying options begin at 45 dollars a month.
For small businesses, Constant Contact is a great email newsletter provider. It is extremely simple to use and appropriate for many businesses. It has everything you need to build and expand your business, whether you're a freelancer seeking new customers or a fashion merchant trying to sell more items. And the simple drag-and-drop email builder allows you to create your newsletter in minutes.
Excellent features:
Automatically send personalized emails to your email list.
For easy list management, upload your list from a variety of sources, including Outlook, Gmail, and Excel.
Maintain a list of subscribers, inactive email addresses, and bounced emails.
You may use the heat-tracking tool to observe where people are clicking on your emails.
Constant Contact's 60-day free trial does not require a credit card. If you're satisfied with the service, monthly rates start at 20 dollars.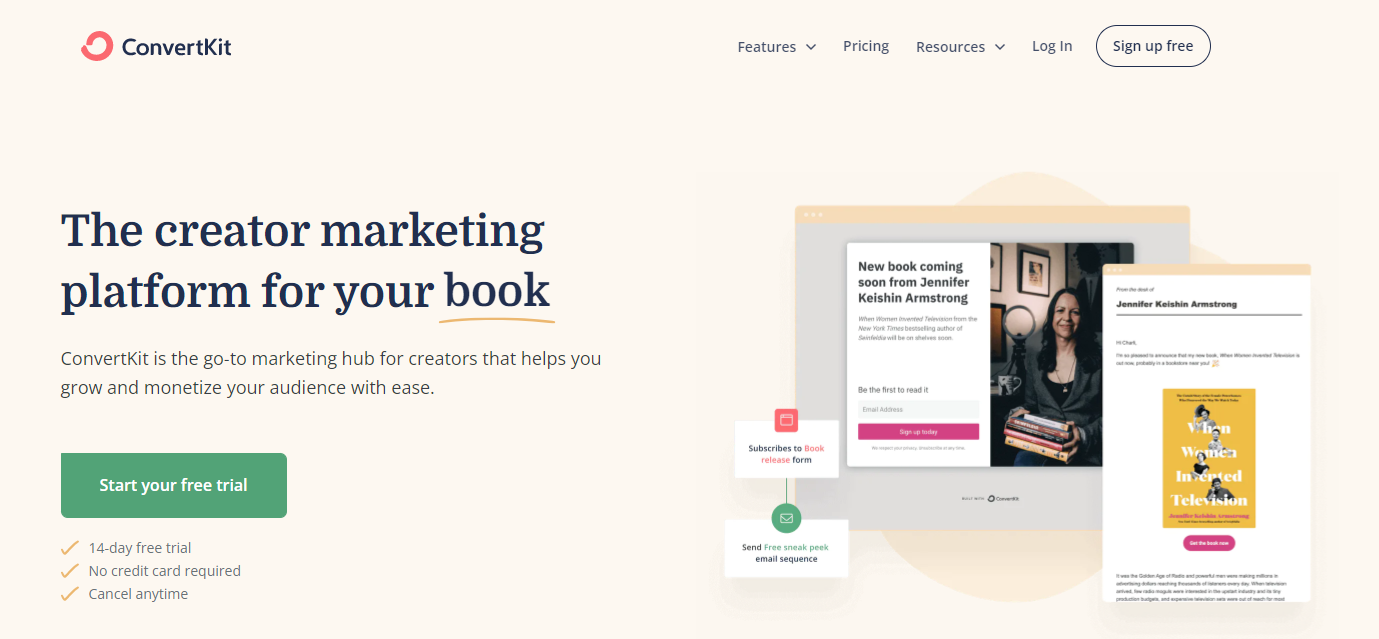 ConvertKit allows you to build emails, registration forms, and more using configurable templates. The visual automation builder will walk you through the process of developing automatic email funnels to assist clients going through the value journey. ConvertKit is the best email newsletter software for bloggers and publishers. Regardless of your objectives, ConvertKit strives to make email marketing as simple as possible so that you may achieve the brand success you seek.
Here are some further benefits of utilizing ConvertKit:
Forms that comply with GDPR, including lead magnet delivery and custom fields
Segment your audience and deliver targeted, tailored emails to increase conversions.
Sending plain text emails will keep your emails from showing up in spam bins.
Using the drag-and-drop sequence builder, you may create personalized automated emails.
Take advantage of an easy-to-use layout and a tidy homepage dashboard.
ConvertKit offers a 14-day free trial, allowing you to test the service before investing in one of their plans.
Following that, plans begin at $29 per month.
AWeber is one of the most popular email newsletter services on the market, and it includes all of the features you need to deliver newsletters from your company and communicate with your audience. It has a plethora of pre-built email newsletter themes, and its drag-and-drop email builder makes creating effective campaigns a breeze. You can also combine AWeber with WordPress with a few clicks. To increase sales, build up automatic email sequences.
Here's what more you can do with AWeber's powerful features:
Using tags, organize your emails depending on openings or clicks.
Send out personalized emails depending on subscriber activities and interests.
Send fresh blog posts to your list subscribers automatically.
Send an unlimited number of emails with no send limits.
To make your emails more interesting, choose from hundreds of royalty-free stock photographs.
AWeber offers a 30-day free trial, allowing you to try out its features without investing any money.
If you decide it's the correct solution for you, rates begin at $19 per month.
Last, but most certainly not least, we have GetResponse. The drag-and-drop email builder makes creating email campaigns a breeze. You may also segment contacts to send emails to the appropriate individuals at the appropriate times. This increases the likelihood of those folks becoming paying clients. GetResponse is an email marketing solution that is widely used by organizations and is simple to use. Its user interface is sleek and simplified, making email marketing easier for newcomers with no prior knowledge.
GetResponse also has the following impressive features:
Use pre-designed templates to deliver personalized email messages.
Create and host webinars on your website using the platform.
Use contact behavior to automate your marketing activities.
To improve purchases, create distraction-free landing pages.
Integrate with leading lead-generating platforms like Salesforce and OptinMonter.
Using tags, organize email messages based on user behaviors and preferences.
GetResponse offers a 30-day free trial to help you get acquainted with the platform. Plans begin at $15 per month after your trial period.
Conclusion
We provided you with five options that we believe are best for your company. To sum up this topic, any newsletter service is fine, but it all relies on the task you want to utilize it for. All of these services are free to sample before committing to one, which is why we believe they are the best in 2022. If you want to learn more, they provide chat rooms on each of the websites where you can easily inquire for more information. I hope I made things easy for You and that You found this article informative.