Discover the Best Cross-Platform Site to Play Roblox on PC
Sometime in 2004, entrepreneurs David Baszucki and Erik Cassel began working on a video game project called DynaBlocks. The game makes use of the elements found in interactive physics, which, during that time, was becoming popular among young kids.
The unique feature of DynaBlocks is that it directly involves its users in the system's development work. A year later, the DynaBlocks brand has then evolved to become the video game platform and video game creation hybrid system named Roblox.
Since its official launch in 2006, Roblox has become the dominant, not to mention the most accessible, video game creation platform online. With over 40 million video game titles and an easy-to-learn video game development engine, Roblox quickly became a massive online 3D playground for over 100 million players and indie video game creators to date.
The best part of Roblox comes from its cross-play feature that allows players from various platforms to converge in a massive online 3D world. As of today, Roblox is accessible through various PC video game launchers, emulators, and players.
Speaking of PC emulators, launchers, and players, can these platforms provide a seamless Roblox experience? If so, what is the best tool that you can use to get full Roblox experience on PC? The answer to those questions lies in one of the latest innovations in PC gaming, and it's exclusively offered by Games.lol
What Makes Games.lol Unique From Emulators and Players?
Games.lol, for the most part, is similar to Roblox in most ways simply because it doesn't just provide a stable video game launcher. It can also be your source for all things gaming. Passionate video game enthusiasts from across the globe laid the foundation of Games.lol in line with the rise of Android gaming in 2018.
The organization aims to provide a safe and stable tool to run Android games on PC. With the help of some of the most innovative developers in the industry, Games.lol was able to develop a system that converts Android software into dedicated .exe files that run on PC.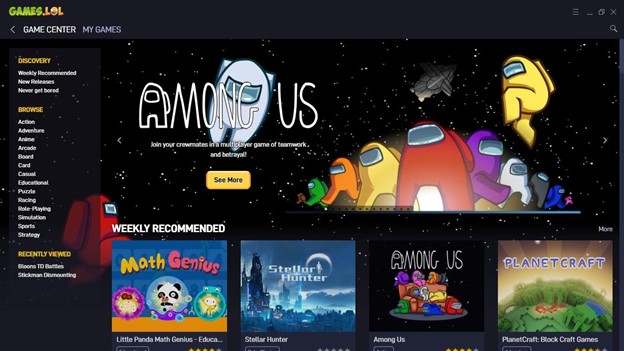 Part of what makes the Games.lol system unique comes from the patent-pending game engine powered by the LOLA technology. One of the main features of LOLA is that it employs the use of a "ghost emulation" system, which makes PC-optimized Android games run and behave like regular PC games. This innovative system allows you to experience seamless Android gaming, even on budget PCs and laptops.
Aside from that, the Games.lol launcher also eliminates the presence of a memory-hungry emulator.  What's more, it puts an end to the usual emulator problems like screen tearing, input lag, latency, etc. Before Games.lol, running games like Roblox on PC requires mid to high range PC setup.
Not to mention, you have to go through multiple security checks just to confirm the validity of the emulator, launcher, or player required to play your favorite Android games on your PC.
In a nutshell, Games.lol makes Android gaming on PC an effortless and seamless experience. If you want to know or try out what the next level of Android gaming on PC feels like, all you need to do is visit the official Games.lol site. Check out one of the most expansive free PC gaming sites that features all the latest gaming updates, tips, tricks, and of course, the best Android installer in the industry.
Author's Bio
Jonathan J Kingston is a video game enthusiast, gamer, and a veteran video game news writer for Games.lol. He spends his free time hunting for free game sites and testing their reliability.