Does your Windows desktop have a boring look which you need to change? Then there is the solution to your problem. Rainmeter skins are developed in order to make your desktop a cool and fun place. With the help of the features and widgets that it houses, it can make your desktop get a different and astounding look altogether.
There are different themes and suites. It has Rainmeter clocks, System monitoring systems, Audio visualizers and Weather widgets.
Also, you must note that in order to have these skins, you need to install the Rainmeter on your Windows PC. It is also compatible with versions from Windows XP to Windows 10.
Before moving on also check out – Best Xbox Emulators for Windows
To help you get the idea of some of the best Rainmeter skins, here is a list of them –
1. Palette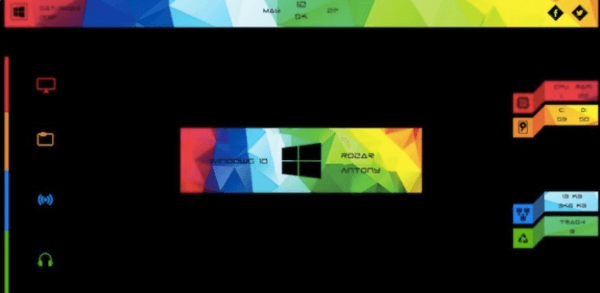 This skin has numerous wallpapers in all sizes (including 4K). It houses all basic elements of a theme like documents, music, wallpapers, and system and user information, recycles bin, time and date, Network details, Facebook and Twitter. You can also set the dimensions of the screen manually. The dimensions include height, width, horizontal or vertical positioning, and font size.
2. Tech- A
With minimal space, Tech-A is both amazing and versatile. Its main feature is that it can display much information like per core CPU usage, RAM utilization as well as Time & Date. It can also create shortcuts to system folders.
It has access to all Disc Partitions and the whole system is arranged around an animated revolving core. You can also access any saved URL of a website directly from the desktop.
3. Avengers Shield OS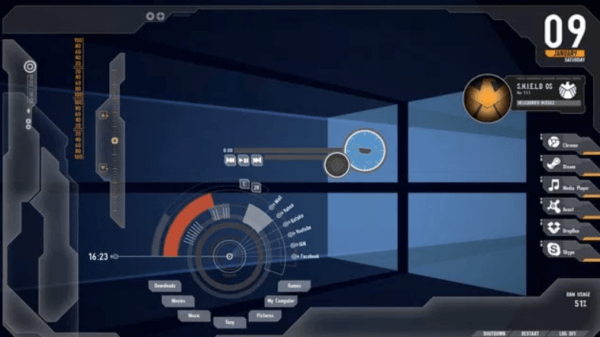 This Rainmeter skin is available to all the Superhero fans out there who are always a step ahead when it comes to Avengers. Thanks to Avengers Shield, you can always play Nick Furry, while sitting at your desktop. Shortcuts are made for the frequently used folders and options. It is also available in multiple resolutions for the ease of adjustments by the users. It has handy shortcuts to applications like Browsers and Music player or Video player. It also has other system controlling options like Volume Control, Media Playback/control bar, RAM and CPU usage display, shutdown and restart buttons and most importantly the S.H.I.E.L.D. eagle tag.
4. Senja Suit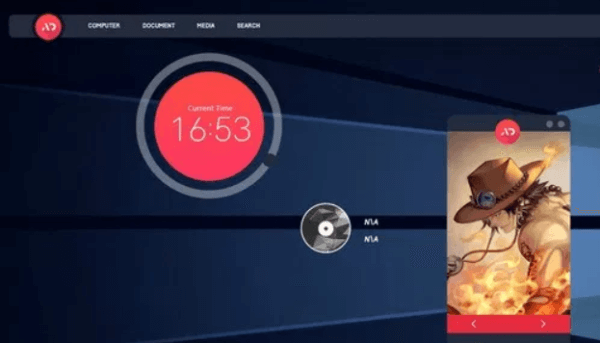 This Rainmeter skin is best for the ones who adore minimalism. It is lightweight and clean and takes care of the basic functionalities efficiently. It doesn't complicate the ways for the user in any way, keeping things simple and easy. It displays information such as Time, User Profile button with an expandable bar for system folder Shortcuts, Slideshows of favourite pictures, Media information with control buttons and Shut Down/ Restart/ Logoff options.
Before moving on any further also read – Guide to Watch Tv Shows Online Free
5. Mass Effect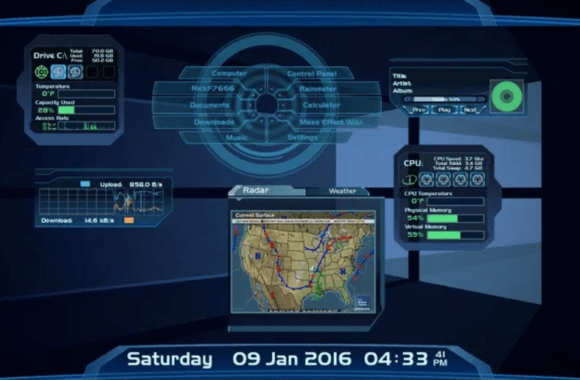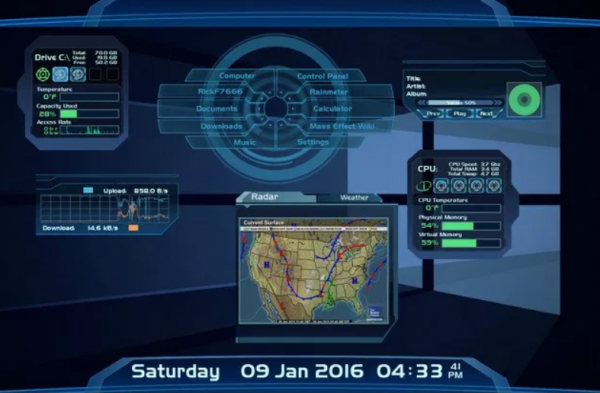 This Rainmeter Skin is dedicated to all the hardcore fans of Bioware's critically acclaimed game franchise. This Mass effect Rainmeter skin will give you the feeling of being Commander Shepherd who is going on against Reapers. The Skin has numerous models and features to offer to you besides the gaming feel.
It shows Time and Date bar, Media Playback and Control Panel, Hard Disk Information Plane, and Network Statistics Graph. All of these features can be systemized for free in an easy way.
6. Before Dawn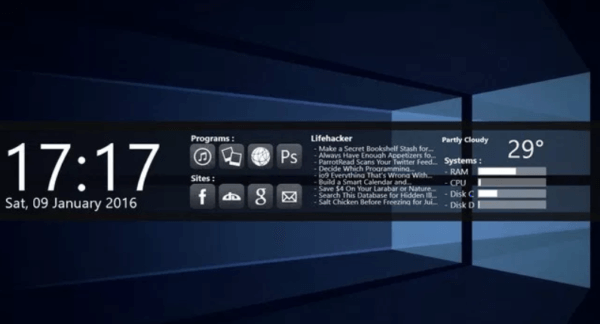 Most of the Rainmeter Skins have the problem of tweaking. In such cases Before Dawn is the easiest setup that you can have as it requires zero tweakings. You just have to make it run on your desktop and it will run as information laced bar throughout the whole space of your desktop. It gives you the information in a highly legible way. The contents that it can display are Time and Date, Short cuts to frequently accessed programs and applications, Subscribed RSS Feeds and Current Location temperature.
7. Razor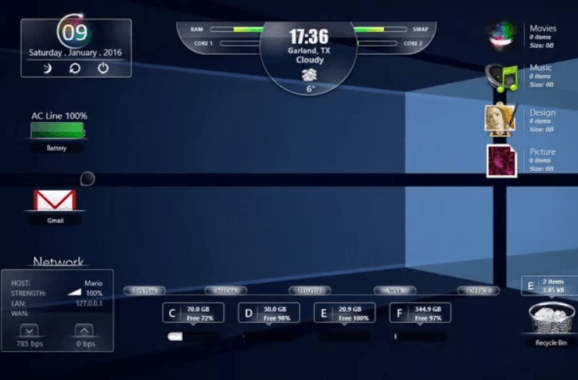 Razor has a display that attracts a huge number of users. It is full of translucency and frosted glass effects. You can choose the wallpaper of your choice which can give a dramatic effect on the look of your desktop. It is best to choose minimalistic wallpaper.
The information displaying modules that this Rainmeter skin houses a combo of Weather and Time and Date Header, System Libraries' shortcuts, customizable dock, Power Status, and Network Strength.
8. ABP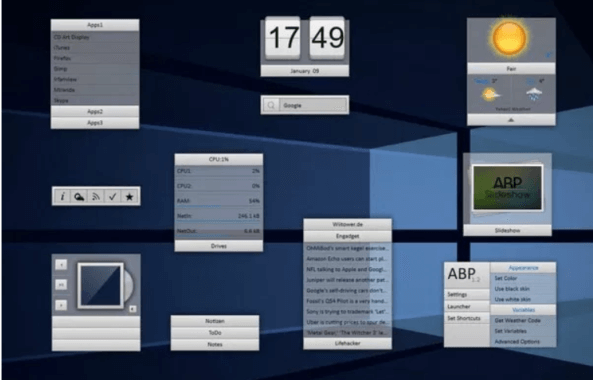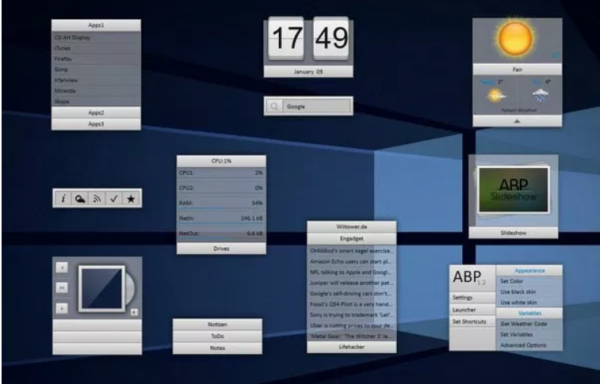 It is a simple and elegant looking Rainmeter skin which has subtle drop shadow effects. ABP can display a variety of contents. It includes Slideshows of your favourite pictures, CPU or RAM usage or current media playback information.
9. Speed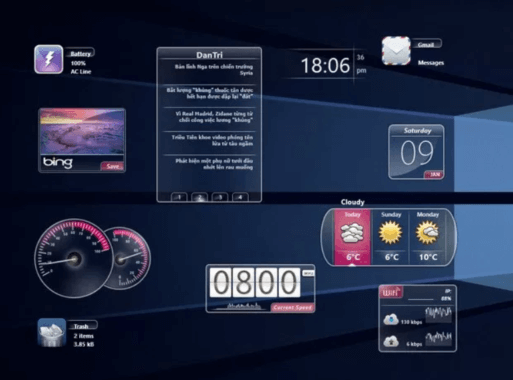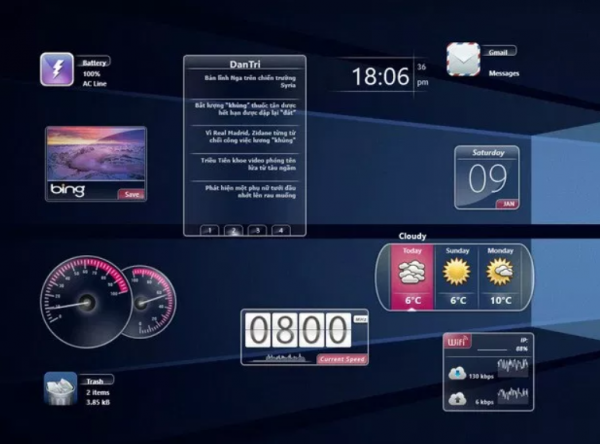 This skin also has a translucency effect with frosted glass appearance. The skin's sub- modules have a consistent look and can be rearranged to suit different resolutions of the screen. It can display System information such as Time and Date, RSS Feeds, Network status, Unread email count, CPU/RAM usage via neat looking gauges, and of course, temperature with the weather forecast of the next three days.
10. Simple Media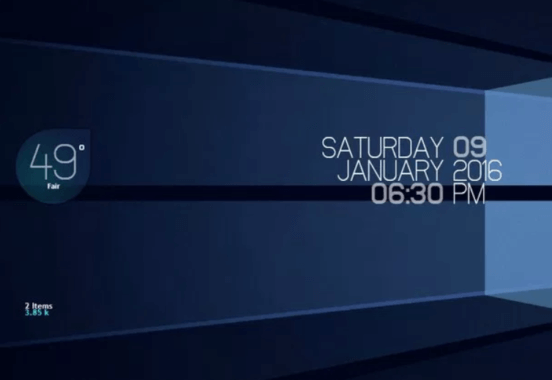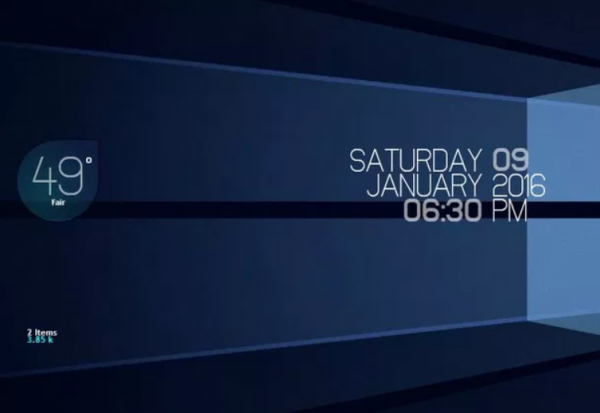 As the name suggests, Simple Media is one of the basic and simple to use Rainmeter skin. But despite being basic, its features are yet commendable. It has information displaying sub-modules which work for all kinds of resolutions of the desktop versions. Date and Time, Recycle Bin Status, as well as the current temperature, showing modules are available in addition to all the variations that it will provide.
All these Rainmeter Skins will no doubt make your desktop look cooler as well as informative.
End of The Line –
So these were the best Rainmeter skins which you can use to customize the way your desktop looks.
This was the list of top 10 Rainmeter skins If you feel we have missed a skin worthy of being part of this list. let us know in the comment section.
Don't forget to share this post with your friends and also check out our popular article List of 3ds Emulators.
Regards