Google Maps Widget Review
Using the right plugins to improve your WordPress sites is a game-changer. Having a modern and professional-looking site that is up-to-date and has multiple different features and gadgets is a sure way to keep those clicks and views coming in. However, when choosing what goes in and what doesn't, it is necessary to focus on users' verified and highly rated plugins to avoid potentially harmful software.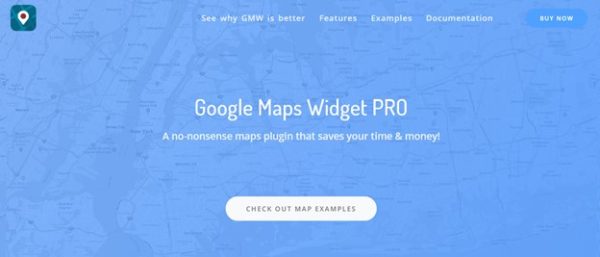 Google Maps Widget is verified and has a high rating by users, and it is one of the best plugins you can get to modernize your WordPress pages. What this plugin essentially does is that it displays Google Maps on any WordPress page you want to put it on.
The process of setting it up is very easy and intuitive, and you can have Google Maps working on your pages in a matter of a few minutes. If you are looking for a stable and reliable Google Maps plugin for WordPress, this is definitely the one that stands out from the rest.
What does Google Maps Widget offer?

Google Maps Widget is a regularly updated plugin with more than a hundred thousand satisfied users. It is compatible with all WordPress themes, easily integrating into any WordPress page. There are many appealing aspects of this plugin, with some of its most notable features beings:
Easy to use – As mentioned before, this plugin is extremely easy to install and run immediately. You will have a Google Map on your pages in a couple of minutes. It is an excellent plugin for both WordPress beginners and veterans alike.
You can add maps anywhere – Adding maps to any part of your page is an incredibly useful tool – be it the menu, the sidebar, posts, or anywhere on the page, you can move the map wherever you wish, which is a feature not many alternative plugins have.
It is easy to customize – Whatever your site's design might be, you can customize the map's look to match it completely.
Unlimited number of maps – There is no limit to the number of maps or pins you can add to your site.
Map layout – You can decide how the map will look and what it will show – directions, street view, and many more options!
Accessibility – Google Maps Widget is not limited to desktops only – it is also optimized for mobile devices and tablets so that you can explore its full potential on multiple platforms.
You have two different options for usage, and these are the interactive map and the thumbnail map. Both of these have their respective features. If you use interactive maps, you will get:
Four types of different maps: Terrain, satellite, road, hybrid
14 map colors, with more available with each update
19 lightbox skins, with more available with each update
Pin customization – you can add an unlimited number of pins and customize them to your liking
Pin grouping – you can group pins and filter them through any filter.
If you decide to use the thumbnail map, you will get:
Four types of different maps: Terrain, satellite, road, hybrid
14 different color schemes, with more available with each update
Pin customization – you can add an unlimited number of pins and customize them to your liking
Ability to set the language of the map.
Pricing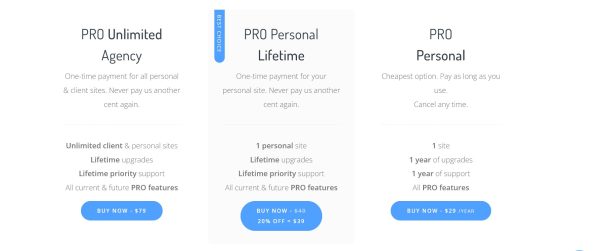 Google Maps Widget has a free version and three different paid plans, depending on your needs:
PRO Personal is the cheapest option coming at $29/year, and it features one site, one year of upgrades, one year of support, and all PRO features. You pay for this option as long as you use it, and you can cancel anytime you want.
PRO Personal Lifetime is widely considered the most "worth-it" option. It comes with a one-time payment of $49 (currently at a 20% discount – a one-time payment of $39), and you get one personal site, a lifetime of upgrades, lifetime priority support, and all current and future PRO features.
PRO Unlimited Agency is a plan based on a one-time $79 payment for all personal and client sites. It features unlimited clients and personal sites, lifetime upgrades, lifetime priority support, and all current and future PRO features.
All of these plans come with a seven-day 100% risk-free money-back guarantee. If you decide you don't like Google Maps Widget during this time, you get all your money back.
Installation
There are several ways to install Google Maps Widget and activate it in WordPress. The first and easiest way is to directly go to your WordPress dashboard and type Google Maps Widget into the search bar. After finding it, click on Install Now, wait for the installation process to finish, and click Activate. After this step, the plugin will be active and ready to be used.
The second way is to visit the plugin's official site and download the.zip file that contains the plugin. After downloading it to your computer, you can proceed to upload it through your WordPress dashboard and activate it after the upload is completed.
If you have purchased a PRO license, you will need to activate it after completing the plugin installation. Head on to the settings tab and find Google Maps Widget. The third tab will say PRO License. You will then need to enter the license key you received with the purchase of the plugin. You will also need to provide a valid Google API key.
Congratulations, your PRO license is now active! Before getting it, check and see if your Google billing account is set correctly up since Google requires a valid billing account before giving you access to an API key. You can get the API key by opening the Google Developers console, creating a project from the options list, and selecting to add credentials to your project. You will then click on the API key link, where you will enter a name and leave the Key restriction option as "none. " You will then be able to create the key, copy it, and paste it into the required plugin activation field.

Conclusion
Choosing between different map displaying plugins for WordPress shouldn't be a headache, and that's why Google Maps Widget has positioned itself as a leader in the category. With its accessibility, easy installation and activation process, many satisfied users, and many features, it is truly a cut above the rest and one of the best plugins you can get for stepping up your WordPress game.
It covers all the essential needs one might have for a map displaying plugin. Since it has a free version on the WordPress repository, the only thing left to do is try it yourself.